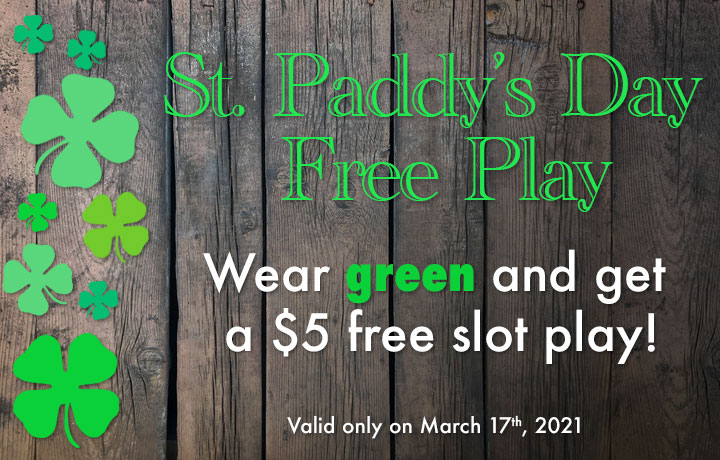 St. Paddy's Day Free Play
Are you feeling lucky? Everyone can be on St. Patty's day at Winnedumah Winns! Come in on March 17th wearing green to get a $5 free slot play on us! It's that easy! See below for more details and the official rules.
Rules of Play
Must be 18 years of age or older to participate
Patrons wearing Green will receive one $5 free slot play until 8:00 pm March 17th.
Must be a Players Club Member to be eligible
Falsification of any information will result in ineligibility
By participating in the promotion, each participant agrees to and acknowledges that they will abide by the official rules, regulations, and procedures of the promotion
Promotion will begin March 17, 2021 at 11am.
Restrictions or limitations on participation eligibility
Must be 18 years of age with proof of ID
Cannot be a Winnedumah Winns Casino employee on or off shift
Winnedumah Winns board of directors are not eligible
Winnedumah Winns Gaming Commission are not eligible
Winnedumah Winns management or key employees are not eligible
Fort Independence Elected Officials are not eligible
Persons who have voluntarily or involuntarily been excluded from the property or who have requested self-exclusion from the property are not eligible to participate in the promotion.
Limitations related to the claim of prizes
Prizes cannot be traded for another prize or turned in for a cash value
Subject to Gaming Laws, any and all malfunctions or customer disputes will be investigated by FIGC.
Any unresolved disputes shall be turned over to the Fort Independence Gaming Commission, P.O. Box 96, Independence, CA 93526 – (760) 878-0159
The list of winners will be made available upon written request to: Board of Directors, P.O. Box 56, Independence, CA 93526